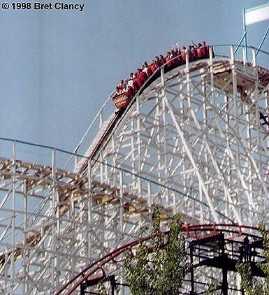 A few tips: Hang on ! Ride twice in the front and two times in the back. Save a ride or two for after dark because, the coaster 's lights makes the thrill even better!

Riverside Cyclone: The Most Brutal Rollercoaster on Earth !

In Agawam, Massachussetts, the heart of New England, you can get on the Riverside Cyclone. When you do, you're in for the ride of your life.

The first drop looks weak. (left) You drop 40 feet, rise up 10 feet, go around the bend, picking up speed, drop 70 more feet straight down, turn sharply to the right, and finally turn sharply left at the bottom. This insane drop slammed me hard twice once on each side of the train. Ouch! The most brutal drop I've ever encountered. When you hit bottom, you hit bottom. Note the steep angle of the drop. (right). The air time is extreme. The rest of this coaster is totally insane!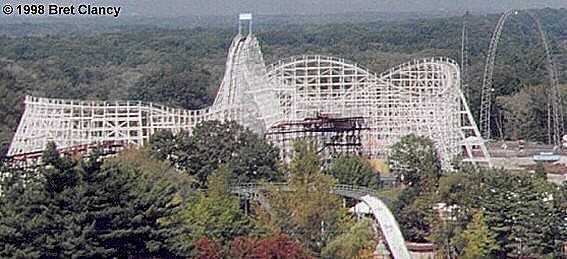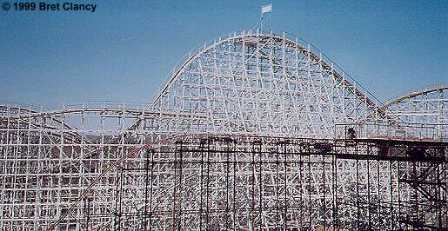 This is the only cyclone type ride that is better than the Astroland Coney Island Cyclone. Rather than shaking you around this wild coaster is like a bucking bronco with sharp quick turns. The tossing and bouncing you up, down and all around does not stop until you come to a screeching halt. Surviving this one is like going to war. Be prepared to get knocked around.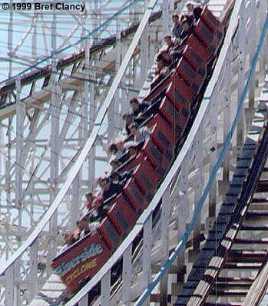 Warning: Not to be taken lightly: May not be suitable for those with weak back, neck, legs or arms!

A few specs:

Maximum Drop


70 feet
Maximum Speed

   45 mph
Track Length


3400 feet
My rating



10/10